The game Slowly in the flow (through Jan. 9 at the New Conservatory Theater Center) – which premieres on the West Coast – opens with a scene familiar to many viewers: "the next morning." As George Gershwin's "Rhapsody in Blue" plays, the lights come on over an elegant London apartment to reveal shirtless young Rufus (Daniel Redmond) and Beau (Donald Currie) in a silk robe a few hours after one of those "I don't usually do that" kind of nights. There is awkward discussion and recognition of the age difference between the two, but there is no doubt for an informed audience that this is only the start for these two.
Everything is done pretty well, but you can't help but wonder where they've seen this scene before. This is the main problem with the play: it feels the excess of familiarity. As written by Martin Sherman (playwright behind the historic 1979 play Curve), this 2017 book gives the impression that its author wanted to make an intermediate contribution to an already crowded genre, as if trying to channel Wendy Wasserstein's pointed and generous observations, but was unsuccessful. Even in its narrative device consisting of jumping in time several years (the play begins at one point in the 90s and ends in the 2000s) to follow the evolution of this homosexual relationship, we remember the play by 2007 by Terrence McNally. A few men, who played for the NCTC in 2009.
There is nothing wrong with an author wanting to tell a familiar story, as long as they can make it their own. Unfortunately, Sherman's play is populated less with characters than character traits. Chatterbox Rufus is defined by his neuroses (which the piece suggests may or may not be the result of bipolar disorder) and his affinity for "old" things. Le Beau, born in New Orleans, is defined by the fact that he is the product of a bygone era: where this accomplished pianist rubbed shoulders with James Baldwin and Nina Simone, he is now bewildered by the strange witchcraft known as the name of "e-mail".
Plus, the relationship between the two is so eager to move forward that it doesn't really evolve naturally. We start from the opening scene of Beau, victim of several heartbreaks, wanting to keep the handsome Rufus at bay so that the next scene finds them alive together years later. At least we think it's years later – there's not much to indicate the passage of time other than the occasional line of dialogue here and there. Notice, the intricate set of Kuo-Hao Lo, with its post-Victorian tapestries, Dorothy Parker-style desk, and modern fridge in the remote kitchen, is beautifully decorated and makes a nice showcase for the designer, but it doesn't change. never in history.
We're tempted to think that's the point, but Beau and Rufus change over the course of their multi-year relationship. Everyone goes back and forth between wanting and not wanting children; everyone changes their minds about their work (Rufus works in a company, Beau is a cabaret pianist), and each has medical problems that the other needs to help. During all of this, we sometimes have access to video testimonials that Beau allows Rufus to record. The purpose of the recordings is not so clear, but given how Rufus wants to convert Beau's VHS collection to DVD as well, maybe there is something to the idea that Beau's apartment represents his inability to move forward?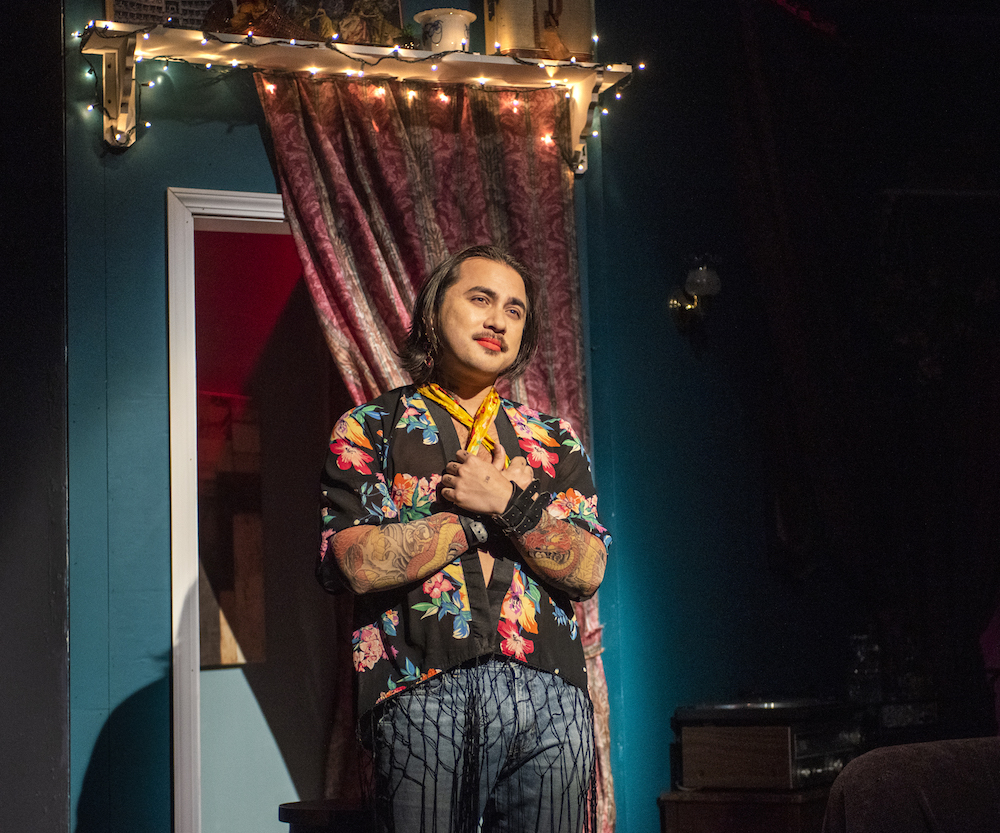 Sadly, the other hurdle that keeps us from being fully immersed in the story is a couple of production picks that muddle things up a bit. The first is the casting of Redmond as Rufus. Previous productions had the two white characters and this is all the more evident when Beau talks about his old jazz days. After their first night, Beau notices how Rufus (Redmond is black) reminds him of James Baldwin, suggesting a fetishization on Beau's part that is never addressed. In fact, the breed is not discussed at all, only how Rufus "didn't fit" in his youth due to his affinity for the older generations. It's good that the NCTC has opted for a diverse distribution, but it raises questions that the text does not answer.
The other technical problem is performance. As directed by Arturo Catricala, Redmond and Currie stay on the same note throughout the show. Redmond's Rufus is squeaky, high-pitched, and scattered, like a four-year-old under sugar; The Beau de Currie is the opposite, subjugated to the point where his occasional outburst of anger seems out of character. When actor Sal Mattos later joins the series as Harry, the third late member of Beau and Rufus' relationship, his drag performance of "The Man I Love" (also from Gershwin) is showy enough, but he doesn't quite have a good grasp of the British accent.
There are already many stories like this and there will be more to come. In fact, the NCTC just produced an excellent one with Trace points in our sexual development. It's a fair game for such a renowned author as Sherman, but the play is likely to be nothing more than a side note in his career. NCTC's take on this is technical, but the thin text and flawed performance make it far too soft.
GENTLY IN THE STREAM runs through January 9 at the New Conservatory Theater Center in San Francisco. More info and tickets here.